I continue to be wonderfully inspired by the creativity that gets linked up at
Thursdays are YOUR Days
! Thank you SO much for sharing your treasures with us. You are, quite simply, amazing.
This week I'm going to feature a few fun and festive
Valentine projects
and then move on to some
DIY goodness
. Can you handle all the excitement??
And, then tomorrow, you're going to come back and either:
1) link up your awe-inspiring projects
and/or
2) BE inspired by the AWEsome projects linked by others.
Comprende?
Good! Let's get on to the LOVE projects!
Pretty great Valentine projects, right??
Now, are you ready for some DIY goodness?
Hating Martha- Chandelier Transformation (which is one project from a BEAUTIFUL dining room makeover!)
Ms. Smartie Pants- Transforming cheap bookshelves in a baby's nursery (you MUST go check out all the nursery details!)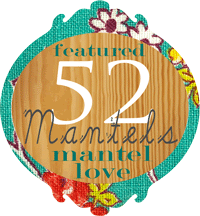 I'll see you all tomorrow for our weekly link party! Go visit the above sites and tell them how cool they are!

(Like what you see? Follow 52 Mantels!)



Follow 52 Mantels by Email
Yep!
I link up!