My chalkboard said 19 days until Christmas and I was like
whaaat
?? And, now? Now there are even LESS days until Christmas.
Whaaaaat
?? Time flies when you're covered in mod podge and glitter.
Side note: Has anyone else swept glitter and/or pine needles off their hardwoods 13 times today? Oh Christmas, I do love how you sparkle.
And, shed.
All over my house.
Where were we? Oh, yes. I was just about to tell you how excited I am to show you today's Creating Christmas project! And, you can go check out all my 2011 Christmas projects
here
, if you'd like.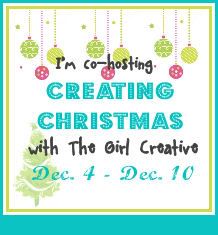 Yesterday I told you a bit about the
Holly Jolly Jingle Hoppin' Cousins Christmas Party
(whew...I'm tired just
typing
that) I threw for my daughter, nieces and nephew on Monday. And, today I'm going to show you my party tablescape plus give you a tutorial for the festive kid-friendly placemats I made for the party!
I love kid's parties because you simply can't overdo the jolly! Throw in some more color and sparkle, please.
I picked up the Santa and snowman cups at Wal-mart for $0.97/each.
Do you kind of want to drink
your
water from one? You can be honest.
Okay, Okay. On to the placemat tutorial:
I started by using my silhouette to cut out the kiddos names and some simple Christmasy graphics.
The front of my placemats were covered in a letter-sized laminating sheet and the backs were covered in white contact paper. To do this, I cut my contact paper into letter-sized rectangles. Then I took a piece of wrapping paper (I love Hobby Lobby's wrapping paper because it has a handy grid on the back!) and cut it a bit smaller than the contact paper.
Then I arranged my names and graphics on the wrapping paper and attached with glue.
Next, I removed the paper backing from the contact paper and left the paper sticky side up. I then laid the wrapping paper on top of the contact paper (very carefully so the design didn't wrinkle!)
I then covered the top with a laminating sheet and trimmed the edges.
That's it!
I think they looked great on our table and the kids got to take them home to enjoy all month!
Don't forget to come back tomorrow and Saturday for more fun Christmas projects! And, don't forget to link up YOUR Christmas goodness on Saturday!