Just when I though I didn't have another Valentine Mantel in me, I opened the mail and found a big envelope full of these vintage Valentines from my friend, Jill (thanks, friend!!)! What a great trip to the mailbox, don't you think??
I simply strung these cuties up on a length of twine with some bare-naked clothespins. Because I really like twine and nakie clothespins.
This card is my FAV. Because, you know, nothin' says love like unveiled threats and grammatical errors.
The
I (love) love
returned from
my first Valentine mantel
! So pretty. So sparkly. So true.
And, you know this pink tree has definitely made the rounds in my Valentine Decor.
Want to see a few more festive Valentine mantels? These lovelies were linked up at Thursdays are YOUR Days!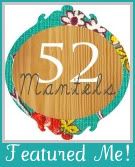 See you tomorrow!

(Like what you see? Follow 52 Mantels!)



Follow 52 Mantels by Email
Yep!
I link up to these parties
and
Thrifty Decor Chick