Breathe a collective sigh of relief if you're all babied out from the last two weeks!
Today's post is the first project I have to show you from my craft room make-over! I'll be discussing that particular room over the next several weeks...and eventually I'll even get to a big reveal.
And, when it's all said and done, you'll be utterly sick of my craft room.
And, so will I.
Sounds like fun, huh??
Anyone else out there love
Pick Your Plum
? I'm kind of obsessed and get giddy when 8am rolls around and their deal of the day shows up in my inbox. It's like Christmas, Monday-Friday!
I've made a couple purchases since I discovered them last Fall, one of which was 3 sheets of iron-on vinyl in red, gray and black. I used some of it for a Christmas throw pillow (which I did not give a tutorial for, alas) and have been saving the rest for the perfect project.
I finally decided the perfect project would be embroidery hoop wall art for my craft room.
I started this project by firing up my
Silhouette SD
and finding a few, simple graphics to cut from my vinyl sheets. Since the art was for my craft room, I decided on things I do in there daily:
I craft (a lot).
I snap (photos of said crafts).
And, I click (away at my computer so you can see those crafty photos).
My vinyl sheets from
Pick Your Plum
came with a handy instruction sheet (and, a yellow laughy taffy, which made my day) so I followed those instructions carefully. When I arranged my images on my Silhouette program, I made sure to place the graphics strategically to maximize what I could get from the vinyl. You can see in the top photo that I included some numbers and words. Those are for other projects. I wanted very little waste to take place!!
I then gathered three hoops and three fabric scraps from my collection. The black and white print is part of the ikea curtains I purchased for that room. They were 96 inches long and my windows were only 84 inches from the ground. Which scored me 12 inches of material from each panel. Awesome!
After my graphics were cut, I ironed each one onto a different fabric scrap and placed each scrap into a hoop. Then, I trimmed the fabric around the hoops using some sharp pinking shears.
When my three hoops were complete, I attached a length of twine to each one and hung them from the knobs of a mirror, hanging above a storage unit in my craft room. I love how they turned out! And, while I can't show you too much of the room yet, I can tell you that they look really great with the rest of what I have going on in that space!
Ever wonder about the girl behind the camera?? Well, there she is. Snapping away.
Fitting, don't you think?
Here's the tiniest sneak peak at a few new organizational accessories in my craft room. Don't you love the pattern and color going on??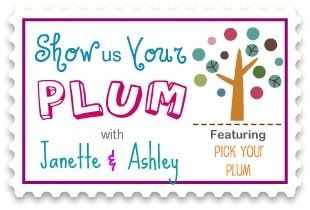 I'm linking this little project up at the Show Us Your Plum party! Because, how much do I want to win that box of crafting supplies??
A lot. That's how much.

(Like what you see? Follow 52 Mantels!)



Follow 52 Mantels by Email
Yep!
I link up!